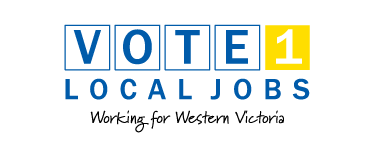 29 August 2014
MEDIA RELEASE
INJECTING $200 million into the south-west's crumbling road network, reducing the driving age for apprentices and stopping the foreign buy up of agricultural land are key components of Vote 1 Local Jobs' 8-point jobs plan.
Released today by Vote 1 Local Jobs leader James Purcell, the plan includes removing payroll tax obligations from regional businesses, committing government authorities to purchase local through a regional 'buy local' incentive and relocating more government departments to regional areas.
Mr Purcell said the plan had been refined after consultation with key south-west Victorian businesses.
"Each of the eight points are designed to generate jobs and create a secure economic future for south-west Victorians," Mr Purcell said.
"Currently the government spends $50 million per year on the Melbourne Grand Prix. We think this money should be spent on the south-west's crumbling road network – in four years time, $200 million later, our roads would be vastly improved.
"We also proposing payroll tax obligations be removed from regional businesses and this financed through a 1 per cent increase in metropolitan pay roll tax."
The buy local scheme would see local, state and federal government authorities commit to buying from the areas where their offices are located, when product pricing is within 5 per cent of its metropolitan counterparts.
"Relocating government departments to regional areas will allow for greater accessibility of services by Western District residents and increased job opportunities in Western Victoria.
"Reducing the driving age to 17 for apprentices and other workers during working hours and to travel to and from work will help regional young people to secure meaningful work prior to 18.
"Education is also a big issue and we will be actively campaigning for increasing funding to regional universities, Tafes and technical colleges."
Vote 1 Local Jobs sees the agriculture sector as the key economic mainstay of the region – and one that should be protected and supported.
"We say categorically no to coal seam gas fracking – it will damage our ground water and ultimately cost us our way of life and jobs.
"Any free trade agreements should be – at a minimum – equal to the existing free trade agreement with New Zealand.
"Legislation supporting the retainment of our agriculture sector in Australia's hands is vital. "We also believe the childcare system should be overhauled to support working parents."
Vote 1 Local Jobs is continuing its membership drive to obtain registration through the Victorian Electoral Commission.
There is no cost or obligation to members, but 500 members are needed to register the party.
"We will be conducting a letterbox drop throughout the Moyne and Warrnambool districts this week and are looking for people to support us in our fight for south-west Victoria."
More details of Vote 1 Local Jobs 8 point plan can be found at https://www.vote1localjobs.com.au/our-policies/our-8-point-plan/ 
For further details or a photo opportunity please contact James Purcell on 0407550 707 or Tanya Waterson on 0437 658 007