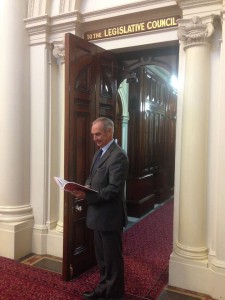 On Tuesday 10 February 2015 James Purcell made his Inaugural Speech in the Parliament of Victoria.
Mr PURCELL (Western Victoria)
I commence as I always commence my public statements — by paying my respects to all those who have fought and died in wars throughout the world to defend Australia, our way of life and our freedom. It is a great honour to be elected, but my inaugural speech will not be about me. I will concentrate on Victoria and, more directly, western Victoria, in particular what I see as good and what I see as needing attention during the next four years.
Before that I must thank the many loyal supporters, volunteers and voters and more than 850 members who have contributed to the election of Vote 1 Local Jobs. Without their support it would not be possible for me to be here today. I also thank my family — my wife, Robyn, my children Nathan, Aaron and Sasha and their families — for their unending support. I also appreciate the great support of my deputy, Tanya Waterson, and her commitment and effort to get me elected. Words cannot truly explain her efforts. In addition, I thank my mother and father, Bonnie and Bernie Purcell, for their never-ending support.
I would also like to thank a former member for Western Victoria Region, David O'Brien, for his focused representation of the region during the last four years and wish him every success in the future. It is also timely to congratulate the former Premier, Denis Napthine, the member for South-West Coast in the Assembly and my local lower house member, for his tireless dedication to our seat and his hard work during his time as Premier.
Vote 1 Local Jobs is a new party. It was established after I stood as an Independent at the last state election. I was approached to consider standing in the upper house at this election as the people of my home town of Port Fairy and the surrounding towns of Portland, Hamilton and Warrnambool were faced with the prospect of no representation closer than Geelong or Ballarat. As a long-term resident of this area, I was extremely concerned about this likely outcome.
We knew we wanted job security, economic prosperity and a positive way of life for western Victoria and believed jobs to be at the heart of the strong framework and foundation needed for our area to flourish. We passionately believe jobs are about more than just putting food on the table. They support social networks, help reduce crime rates and facilitate positive community self-esteem. And so Vote 1 Local Jobs was born. We became officially registered a few weeks before the November election and in just over three weeks we were elected — a true reflection of the south-west's desire for local representation.
The feedback from my electorate is that Victorians are looking for more from their elected representatives. They want their concerns to be heard and acted upon, they want an end to political grandstanding and they want outcome-driven leadership. We need to take action and work together to build a strong future for Victoria. We must create jobs, educate for jobs and provide on-the-job training. Unemployment of the fit and able is simply not acceptable, intergenerational welfare is the greatest risk to this country and uncontrolled population growth is not the answer. Victoria has grown more quickly than its supporting infrastructure. Our roads are stressed, our schools and hospitals are under pressure and there are insufficient jobs.
Western Victoria is facing many of these problems in extreme proportions. Our roads, according to VicRoads reports, are the worst in the state; our year 12 attainment levels are some of the lowest in the state; and we have pockets of youth unemployment approaching 20 per cent, with our overall unemployment growing faster than the national average. The TAFE system needs strong support. I must say that I was very pleased to hear last week's rescue funding announcement by the government for the Warrnambool TAFE. Our hospital network needs continued assistance.
Agriculture is a shining light in western Victoria and must be protected. I see two major challenges to agriculture during the next four years and beyond. Firstly, coal seam gas exploration and extraction has the potential to destroy the underground water supply for stock and human consumption. I will be doing everything possible to stop this happening in western Victoria. Secondly, foreign ownership of our rich agricultural land has the potential to turn our rural communities into poorly paid, subservient, poverty-stricken communities. Our ancestors fought in wars to protect our country and now we see some people wanting to sell off what our ancestors fought for to the highest bidder. I cannot see any long-term benefit from allowing our country's greatest assets to be sold overseas. The next generations will not forgive us for allowing across-the-board foreign ownership of our prime agricultural land, and I will be doing all I can to stop this happening.
We need to support industry to grow, as without industry the problems I have previously mentioned will increase tenfold. Industry creates economic security and economic security creates jobs. We need to support renewable energy, support industry, put a blanket stop to the foreign buy up of our agricultural land and value add to our agricultural sector by being smarter about using what we have in Australia for Australia's economic gain and to create jobs.
Vote 1 Local Jobs' policies revolve around exactly that: jobs generation, economic security and a better way of life for western Victoria and the rest of Victoria. If I had a magic wand, I would immediately put a stop to the foreign buy up of our rich agricultural land; emphatically oppose unconventional gas exploration and extraction; make it easier for country students to attend university by providing subsidies and discounting higher education contribution scheme fees; reduce payroll tax obligations for country businesses to help the decentralisation of business; cut the $50 million the government spends on the grand prix and inject the funds into country roads; provide 40-kilometre-per-hour flashing lights at all schools on VicRoads transport routes; create better job opportunities by stopping the dumping of foreign product into Australia; decentralise government services from major cities to make services easier to access by people in country areas; support industry to grow and employ more Victorians; support traditional rural activities that are important to all electorates; and — one close to my heart — support horse racing, including jumps racing.
I am passionate about ensuring that the people of western Victoria have a strong local voice in Parliament and that issues relevant to the area are raised, heard and acted upon by the state's elected representatives. Locally, a pressing issue for my town of Port Fairy and surrounds at this point in time is an adverse possession claim at 107 Gipps Street, Port Fairy, by a Melbourne-based individual. This land is and always has been regarded by my community as common open space and has been regularly used as such by the fishing community and general public for many decades. Without the knowledge of most of my community, the Victorian titles office has recently made an incomprehensible decision to award this land to an opportunistic blow-in. I will be seeking to have this horrible adverse possession decision overturned and the land returned to the community as public open space.
Finally, I thank the coalition for its work over the past four years and congratulate Daniel Andrews and the Labor Party on their success in November. I have read with interest Labor's jobs creation policy and look forward to working with it and all other parties to create a stronger Western Victoria Region and Victoria as a whole.
Debate adjourned on motion of Ms PATTEN (Northern Metropolitan).
Debated adjourned until next day.