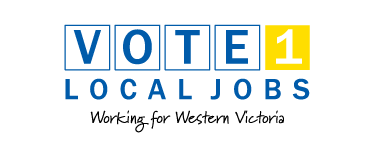 12 September 2014
MEDIA RELEASE
A company in which Gina Rinehart is the major shareholder has secured the exploration rights to decimate south-west Victoria's underground coal seam to extract gas.
The company, Lakes Oil NL, has acquired exploration permits PEP 167 and PEP 175, which effectively gives it the right to drill for gas across south-west Victoria between Portland and Warrnambool, up to near Hamilton.
Vote 1 Local Jobs founder James Purcell said coal seam gas fracking was a huge issue that has the potential to permanently damage south-west Victoria's underground water supply.
"Our agriculture industry and town water supplies are under threat by the coal seam gas movement," Mr Purcell said.
"Coal seam gas involves drilling underground and exploding the coal to extract gas, which is known as fracking).
"Coal seam gas exploration is fraught with danger and this year devastated an underground water supply in NSW, with the EPA finding the exploration had contaminated an aquifer with uranium levels 20 times higher than safe drinking water guidelines."
At the recent national Local Government assembly Moyne Shire put forward a motion to ban exploration and drilling of coal seam gas, which was convincingly defeated.
"It was effectively knocked on the head by city-based Councillors who do not have agricultural land in their municipalities. This is a huge threat to south-west Victoria as there seems to be a misconstrued belief that coal seam gas will reduce rate payers gas bills – which is simply not true.
"Coal seam gas fracking needs to be banned outright in Victoria – the existing moratorium is only a short-term protection. This is a huge issue and Vote 1 Local Jobs is actively working towards securing a ban."
For further details or a photo opportunity please contact James Purcell on 0407 550 707 or Tanya Waterson on 0437 658 007