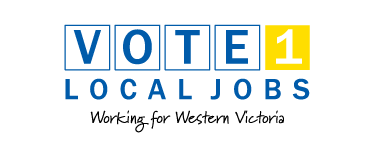 MEDIA RELEASE – VOTE 1 LOCAL JOBS OFFICIALLY REGISTERED
A NEW political party created specifically to generate jobs and economic employment in Western Victoria – Vote 1 Local Jobs – has been inundated with support and is now officially registered.
The historic achievement means Vote 1 Local Jobs is the first political party created specifically for Victoria's Western District.
The party has been created by Moyne Shire Mayor Cr James Purcell, who stood as an independent at the last state and federal election and is the most successful independent in our region's history.
Mr Purcell said Vote 1 Local Jobs has more than 850 members.
"We've had an incredibly positive response. People are excited to have a party created to work specifically for the people and benefit of Western Victoria," Mr Purcell said.
Vote 1 Local Jobs is standing on a platform of job creation and has an eight-point plan designed to create jobs and drive economic growth in the region. It is aiming to win the Upper House's coveted fifth seat and offers itself as a 'security vote' to the people of the Western District.
"We need to make sure we have local representation for our region. If Denis Napthine's Liberals lose power things will be very different in Western Victoria.
"If Vote 1 Local Jobs is elected in the Upper House Western Victorians can be assured of localized representation, irrespective of which government takes power.
"The Upper House is responsible for approving all legislation which goes before parliament and Vote 1 Local Jobs will obviously have the best interests of Victoria's Western District in mind at all times."
Mr Purcell agreed to stand in the Upper House when confronted with the real threat of the Napthine Government falling at the election.
"The purpose of Vote 1 Local Jobs is to make a difference to Western Victoria, to enhance our way of life and ultimately secure greater investment and more jobs in our region.
"We're not intending to change the government or defeat your local member – what we are intending to do is secure the fifth spot in the Upper House and that's a very real possibility."
In a situation unique to Victoria's Western District, two Liberal and two Labor representatives are usually elected to the Upper House, while the fifth elect usually comes from one of the minor parties. Our election system – which sees preferences between parties and a quota allocation – means there is a high probability of securing the fifth spot.

The Upper House is essentially the 'watchkeeper' of Victoria and is responsible for passing all legislation. The advantage of having
Vote 1 Local Jobs elected is that this area will then get greater, more positive support from the government in power.
Vote 1 Local Jobs is standing on a platform of exactly that – local jobs; and all policies are designed to support job creation, economic security and a better way of life for Western Victoria.
They include:
Opposing the foreign buy-up of agricultural land and introducing a First Farm Owners Grant, funded by 50 per cent stamp duty on all foreign purchases of Victorian land;
Creating better opportunities for Australian business by legislating against the dumping of foreign product in Australia;
Decentralising government services from major cities to make services easier to access by people in country areas;
Cutting the $50 million the government spends on the Grand Prix and injecting these funds into western Victorian roads and rail;
Supporting local business through government incentives to encourage major investment and job creation in our region; and
Removing payroll tax obligations from country businesses.
"All our policies are designed to create better employment prospects and a better way of life for Western Victorians. For instance, without good roads investment will go elsewhere; a reduced cost of living and fewer business overheads will encourage people to invest and create jobs in Western Victoria."
Download media release (PDF 124kb)