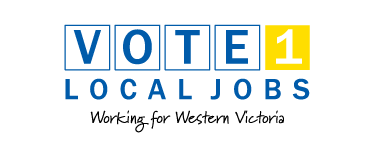 LETTER TO THE EDITOR
TIME TO INVEST IN ROADS AND RAIL
I write in response to Thursday's front page article regarding the deplorable state of our roads and last week's front page article On track (…everywhere except south-west Victoria) which details how both major parties have promised millions for train upgrades in country Victoria – but not in the south-west.
Western Victorians deserve safe roads, just as everyone does. It's time we stop missing out. In the current economic climate, with rising unemployment and industry decline, it is vital we receive funding and upgrades to roads and rail to give south-west Victoria part of the supporting infrastructure necessary to succeed. If we're offering antiquated rail services and pothole-ridden roads we are WAY behind the eight ball.
Vote 1 Local Jobs proposes investing the $50 million currently spent annually on the Grand Prix into Western Victorian roads and rail. It is VITAL we get our roads and rail up to scratch, or investment, industry and jobs will go elsewhere.
JAMES PURCELL
35 BANK STREET,
PORT FAIRY 3284
Download as PDF – 141030 LTE Time to invest in roads and rail