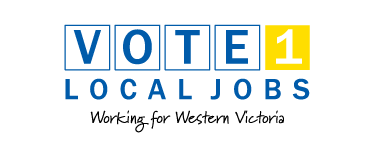 30 April 2014
MEDIA RELEASE  
RACEGOERS are being urged to sign a petition at the May Racing Carnival that documents support for the jumps racing industry.
Organised by Vote 1 Local Jobs candidate James Purcell, the petition will be presented to the Premier and tabled to parliament after the November state election.
"Jumps racing opponents are vocal in their opposition so this petition is designed to highlight the significant support for jumps racing and allow supporters to have their message heard," Mr Purcell said.
"Jumps racing is an important industry that generates millions of dollars for regional businesses each year and supports a significant number of local jobs.
"We need to record the support and counter the anti-jumps racing lobby."
Mr Purcell said there were a large number of jumps racing supporters but no organised push on their behalf to support the industry.
"The polls are predicting the Napthine government will fall at the November election. Three years ago under the Labor Government jumps racing hung on day-to-day by only a thread.
"Supporters need to band together to show the incoming government – whichever it may be – that this industry has strong support. It's too late to wait for the election result, that's why we're doing it now.
"We already have dozens of trainers and jockeys on board, including Australia's leading trainer Chris Waller and successful jumps jockey Steve Patemen."
Mr Purcell will be at the entrance of the races today and tomorrow with the petition.
"Please come along and show your support for jumps racing, so we ensure the state government understands how crucial the industry is to south-west Victoria."
Sign the petition online at https://www.vote1localjobs.com.au/petition/support-jumps-racing-in-victoria/
For further details or a photo opportunity please contact James Purcell on 0407 550 707 or Tanya Waterson on 0437 658 007