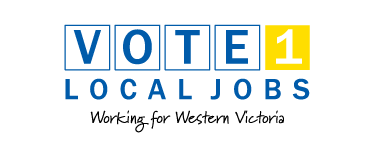 MEDIA RELEASE
A FURTHER five per cent of government services should be relocated to regional areas to increase accessibility and job opportunities, says Vote 1 Local Jobs founder James Purcell.
Mr Purcell said it was time initiatives were developed to stop the rural drain to Melbourne and increase regional residents' accessibility to government services.
"The concentration of government departments in Melbourne makes it difficult for regional residents to access services and also denies country people significant employment opportunities," Mr Purcell said.
"Relocating a further five per cent of government departments to regional areas will provide greater job security and encourage future generations to gain meaningful employment in their hometowns.
"It will help combat our rising youth unemployment rate, provide more diverse job opportunities and also help with the youth drain to Melbourne which is becoming more prominent."
Mr Purcell suggests rural or agriculture related state government departments be relocated to regional areas.
"There has been substantial closures of government departments in regional Victoria over recent years and this must be reversed.
"From a job perspective it is important we have a diverse range of job opportunities and relocation of these departments will certainly provide a greater variety of jobs.
"Relocating these departments will also increase confidence in the economic stability of these towns and in turn increase economic growth. We need to stop being disadvantaged."
Vote 1 Local Jobs is Western Victoria's newest political party. It was created by Moyne Shire Councillor and former Mayor James Purcell. It has been inundated with support and has more than 850 members. Mr Purcell stood at the last state and federal election and was the most successful independent in the south-west region's history.