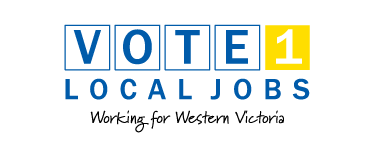 MEDIA RELEASE
COUNTRY business should be exempt from paying payroll tax, says Vote 1 Local Jobs founder James Purcell.
Mr Purcell said regional businesses faced increased costs due to the tyranny of distance and a payroll tax exemption would have obvious positive benefits for regional businesses.
"Businesses pay 4.85 per cent payroll tax once they pay $550,000 in wages," Mr Purcell said.
"Removing this tax for businesses located in regional areas will free up cash flow and enable employment growth.
"It will also provide a much needed incentive for businesses to locate and employ in regional areas, rather than concentrating their investment in Melbourne."
Mr Purcell suggests the change could be funded by a 1 per cent increase in payroll tax in metropolitan areas.
"There are five times more businesses in Melbourne, thus a one per cent across the board increase in Melbourne will create a move by businesses to set up in regional Victoria, which will facilitate business and employment growth in regional areas.
"Generally speaking regional businesses have less access to goods, services and support networks than their metropolitan counterparts, so it is wrong they are paying the same rates."
Vote 1 Local Jobs is Western Victoria's newest political party. It was created by Moyne Shire Councillor and former Mayor James Purcell. It has been inundated with support and has more than 850 members. Mr Purcell stood at the last state and federal election and was the most successful independent in the south-west region's history.