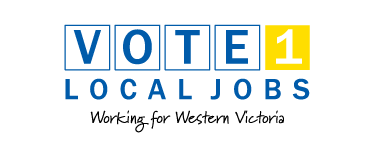 MEDIA RELEASE
A REGIONAL 'buy local' scheme should be introduced to commit government authorities to buying in the regional areas where their offices are based, says Vote 1 Local Jobs leader James Purcell.
Mr Purcell said this was the next step in his aim to decentralize services and jobs from Melbourne, with step one seeing more government services relocated to regional areas.
"Government authorities need to commit to buying local, alongside consumers," Mr Purcell said.
"If product pricing is within 5 per cent of its metropolitan counterparts it needs to be purchased locally.
"We need to stop the drain of resources and funds to Melbourne."
Mr Purcell said increased revenue in regional areas had obvious benefits.
"We need to be putting processes in place to increase jobs and revenue; obviously a buy local scheme will increase local expenditure and create employment opportunities.
"Experts are predicting Melbourne's population will skyrocket and double by 2050. We are going to end up with a huge city that more likely than not will not have the infrastructure to support it.
"Supporting regional areas, creating more jobs in country towns and spreading expenditure around will have obvious benefits for regional areas, but also for Victoria as a whole."
Vote 1 Local Jobs is Western Victoria's newest political party. It was created by Moyne Shire Councillor and former Mayor James Purcell. It has been inundated with support and has more than 850 members. Mr Purcell stood at the last state and federal election and was the most successful independent in the south-west region's history.
Download as PDF – 141125 MR Buy local scheme